Categories
Categories
Subject Matter
Subject Matter
DevOps Leader (DOL) Certification Course - Accredited
DevOps Leader (DOL) Certification Course - Accredited
Product Description
The DevOps Leader course is a unique and practical experience for participants who want to take a transformational leadership approach and make an impact within their organization by implementing DevOps. Leading people through a cultural transformation requires new skills, innovative thinking, and transformational leadership. Leaders up, down and across the IT organization must align and collaborate to break down silos and evolve the organization.
The course highlights the human dynamics of cultural change and equips participants with practices, methods, and tools to engage people across the DevOps spectrum through the use of real-life scenarios and case studies. Upon completion of the course, participants will have tangible takeaways to leverage when back in the office such as understanding Value Stream Mapping.
The course was developed by leveraging key DevOps leadership sources to extract real-life best practices in leading DevOps initiatives, such as the Spotify Squad Model, and has been designed to teach the key differences and emerging practices for cultural transformation through leadership in a fast-paced DevOps and Agile environment.
---------------------------------------------
Leadership is not just for the executives in the corner office, one of the most powerful things we can do in this lifetime is to grow our personal leadership skills. As John Maxwell says, leadership is influence. Influence is the power to change, or the power to affect someone or something.
A DevOps Leader is a tactical or strategic individual who helps design, influence, implement or motivate the cultural transformation proven to be a critical success factor in DevOps adoption. This individual understands the human dynamics of cultural change and is equipped with practices, methods and tools to engage people across the DevOps spectrum.
What makes this course unique is that it is specifically about leading DevOps transformation including new and innovative ways to organize and manage IT workflows and value streams.
This sixteen (16) hour course culminates with an independent exam. Successfully passing (65%) the 90 minute exam, consisting of 40 multiple-choice questions, leads to the DevOps Leader (DOL)® Certificate.
Class also includes experiential exercises, GAME ON! An Interactive Learning Experience® and access to ITSM Academy's Learner Portal.
** Click on the Product Videos tab above to see videos relating to this course **
Learning Objectives: The learning objectives for DevOps Leader (DOL) include a practical understanding of:
The Golden Circle
Understanding organizational culture and organizational change
Conway's Law and its influence on DevOps and systems thinking
Strategies for leading cultural transformations

Managing cultural change
Culture and its impact on performance

Evolving silos into flat, team based organizations
Managing conflict
Creating feedback loops
Creating learning environments
Avoiding change fatigue
Managing conflict
Communication and collaboration strategies
Meaningful metrics
Resourcing for DevOps
Popular DevOps Tools and Practices
Demonstrating DevOps Return on Investment (ROI)
Critical success factors
Getting started
Objectives include such topics as:
DevOps and Time
Key Differences between DevOps IT and Traditional IT
Becoming a DevOps Organization
Value Stream Mapping
Squad Organizational Model
Building a Business Case
Bringing it all together
Come ready to participate in lively discussions about improvements, benefits and challenges.
Delivery: For 16 hours, our learners are immersed in material that is presented in a fun, practical manner using exercises, sample exam questions and real-world examples.
Audience:
Anyone interested or involved in cultural transformations and organizational change

IT team leaders

Managers

Directors and business stakeholders

Practitioners and change agents

Tool providers and systems integrators

DevOps consultants
Project Management Institute (PMI) Professional Development Units: ITSM Academy is recognized by PMI as a Global R.E.P. Project Management Professionals earn 16 contact hours or PDUs upon completion of this course.
Instructors: As with all ITSM Academy training, our instructors have successful track records as IT professionals and bring that acumen into the classroom. Utilizing the highest quality content, our trainers blend their real-life experiences into lively classroom discussion.
Trainers for this course are seasoned professionals, hold multiple DevOps, Agile and ITSM industry certifications and have successfully completed ITSM Academy's DOL Train-the-Trainer Program.
Course / Student Materials:
Access to ITSM Academy's

Learner Portal

- my.itsmacademy.com - extends the classroom experience with online content and tools

Digital Learner Manual (excellent post-class reference)
Learner Personal Action Plan
Sample documents, templates tools and techniques
Study aids and sample exams
Access to additional sources of information and communities

- including the S

tate of DevOps Report

Sixteen (16) hours of instructor led training and exercise facilitation
Participation in our

GAME ON! An Interactive Learning Experience

®
Participation in unique assignments designed to apply concepts
In-class exam preparation
Exam voucher
Let's Go Green: Materials for this course are provided as downloadable soft copy files that can be viewed on a variety of devices. Attendees may print a hard copy of the files in whatever format best meets their needs, and can use the files under the Terms of Use as indicated on the material.
Prerequisites:
DevOps Foundation

certification is recommended. Purchase both together and receive 10% off DevOps Foundation! Code at checkout = DOCFND10
Complete pre-class reading assignment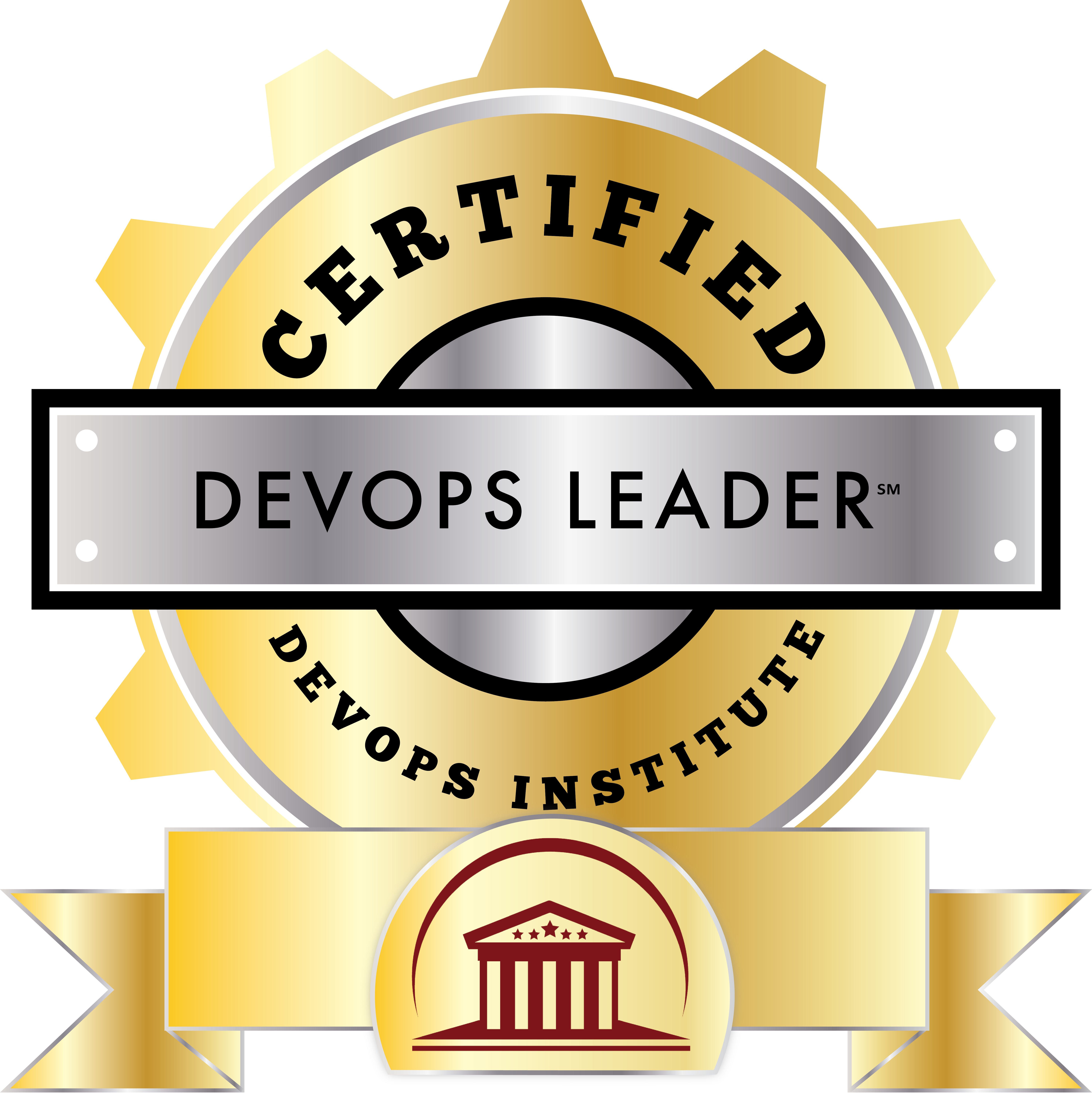 Exam & Certification: Class culminates with an independent exam. Successfully passing (65%) the 90 minute examination, consisting of 40 multiple-choice questions, leads to the DevOps Leader (DOL)® certificate. Successful candidates are issued Digital Badges to be shared in Social Media.
About The DevOps Institute: This course is accredited by the DevOps Institute (DOI), a global leader in emerging DevOps and Agile Service Management practices. DOI is bringing enterprise level DevOps training and certification to the IT market while setting the standard in quality for enterprise grade DevOps education and training.


Classes Held In:
Learners should only commit to classes they are prepared to attend. ITSM Academy Open Enrollment Class Terms and Conditions.
Product Videos
Product Reviews
Find Similar Products by Category
Customers also viewed