Categories
Categories
Subject Matter
Subject Matter
Certified Agile Process Owner (CAPO)® Certification Course
Certified Agile Process Owner (CAPO)® Certification Course
Product Description
Learn how to use Agile with ITSM (ITIL) to make your processes more robust and... well Agile and Lean (better, faster, safer). A Certified Agile Process Owner (CAPO) is the operational counterpart to a development Product Owner. Working together, Process Owners and Product Owners can instill agile thinking into the entire IT organization as the basis of a DevOps culture.
This sixteen (16) hour course describes process owner responsibilities and provides the education needed to oversee the design, reengineering and improvement of IT Service Management (ITSM) processes; particularly in the context of Agile Service Management. Participants learn how to use Agile and Lean principles and practices to put in place 'just enough' process and how to continually align process performance with overall business goals.
Class also includes experiential exercises, GAME ON! An Interactive Learning Experience® and access to ITSM Academy's Learner Portal.
Learning Objectives: The learning objectives for this course include an understanding of:
Basic Agile and Agile Service Management concepts
Process owner role and responsibilities
Managing and prioritizing a process backlog
Creating and utilizing user stories
Collaborating with process stakeholders and other process owners
Overseeing Agile process design and improvement activities
Managing organizational change activities
Monitoring and measuring process performance
Conducting process reviews and identifying improvements
Delivery Methods: For 16 hours, our learners are immersed in material that is presented in a fun, practical manner using exercises, sample exams and real-world service management examples.
Audience: A process owner is the individual accountable for the performance of a process and for ensuring the process delivers value to its stakeholders. Process owners manage the requirements of process stakeholders, translate those requirements into process performance objectives, and oversee the entire process design and improvement lifecycle.
Process owners
Process managers
Employees and managers responsible for designing, reengineering or improving processes
Consultants guiding their clients through process improvement initiatives
Anyone responsible for:

Managing process-related requirements
Ensuring the efficiency and effectiveness of processes
Maximizing the value of processes
Project Management Institute (PMI®) Professional Development Units: ITSM Academy is recognized by PMI as a Global R.E.P. Project Management Professionals earn 16 contact hours or PDUs upon completion of this course.
Instructors: As with all ITSM Academy Training, our instructors have years of hands-on IT practitioner experience, enabling them to effectively intertwine theory and real life stories and scenarios. Using the highest quality content, this training style encourages active group participation, allowing all learners to bring from class a wealth of practical knowledge.
Trainers for this course are seasoned professionals, hold multiple DevOps, Agile and ITSM industry certifications and have successfully completed ITSM Academy's Certified Agile Process Owner Train-the-Trainer Program.
Course / Student Materials:
Sixteen (16) hours of instructor-led training and exercise facilitation
Participation in our

GAME ON! An Interactive Learning Experience

®
Participation in unique exercises designed to apply concepts
Access to ITSM Academy's

Learner Portal

- my.itsmacademy.com - extends the classroom experience with online content and tools

Digital Learner Manual (excellent post-class reference)
Agile Service Management Guide (pre-class resource)
Learner Personal Action Plan
Sample documents, templates, tools and techniques
Access to additional sources of information and communities

In-class exam preparation
Exam voucher
Let's Go Green: Materials for this course will be provided as downloadable soft copy files that can be viewed on a variety of devices. Attendees may print a hard copy of the files in whatever format best meets their needs, and can use the files under the Terms of Use as indicated on the material.
Prerequisites:
Familiarity with IT and IT services
Review The Scrum Guide™ (provided via Learner Portal)
Review The Agile Service Management Guide (provided via Learner Portal)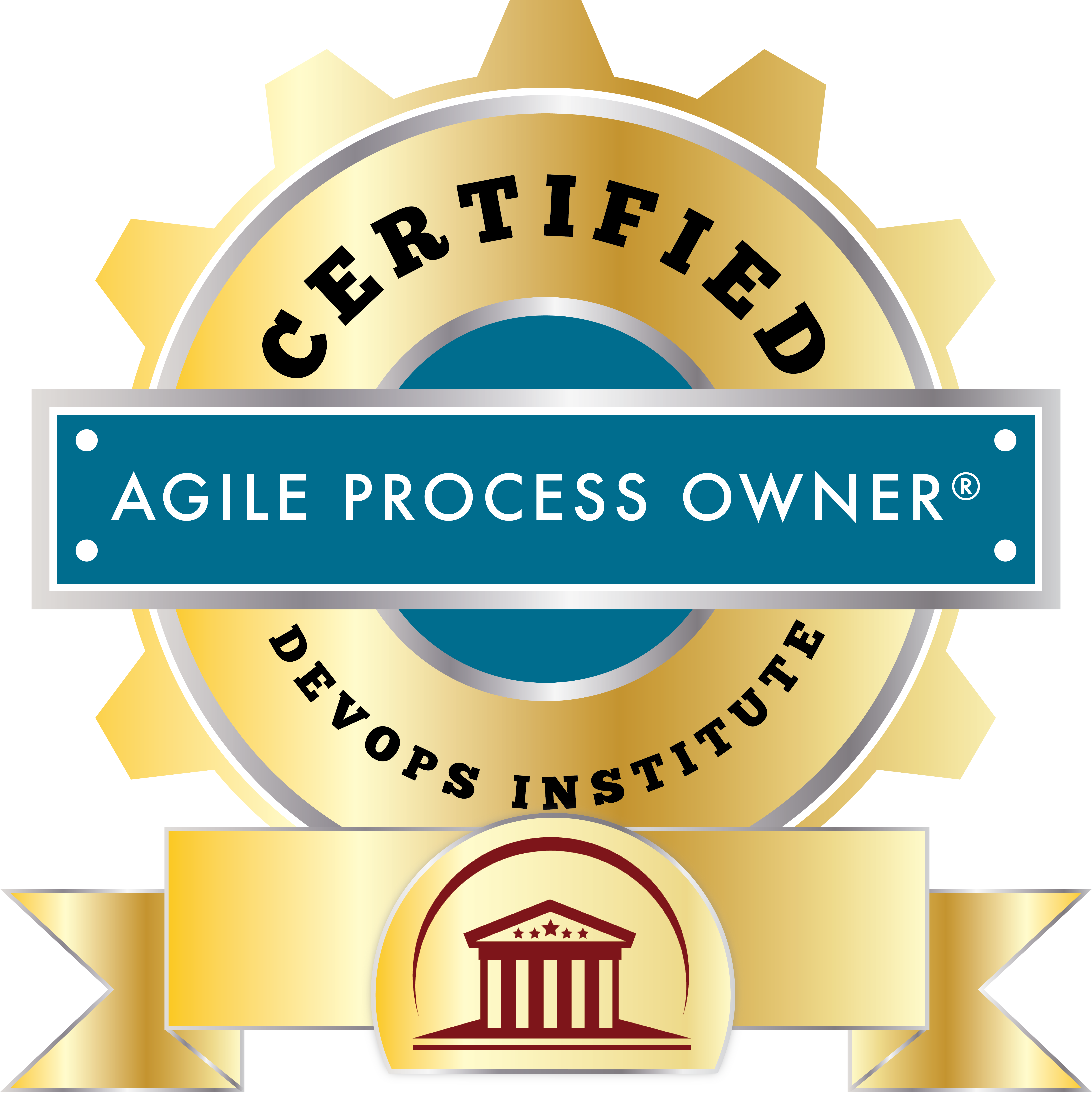 Exam & Certification: Successfully passing (65%) the 60 minute exam, consisting of 40 multiple-choice questions, leads to the Certified Agile Process Owner (CAPO)® Certificate. Successful candidates are issued Digital Badges to be shared in Social Media.
About The DevOps Institute: This course is accredited by the DevOps Institute (DOI), a global leader in emerging DevOps and Agile Service Management practices. DOI is bringing enterprise level DevOps training and certification to the IT market while setting the standard in quality for enterprise grade DevOps education and training.
Course Logistics:
ITSM Academy Open Enrollment Class Terms and Conditions.
Product Videos
Find Similar Products by Tag
Product Reviews
Find Similar Products by Category
Customers also viewed